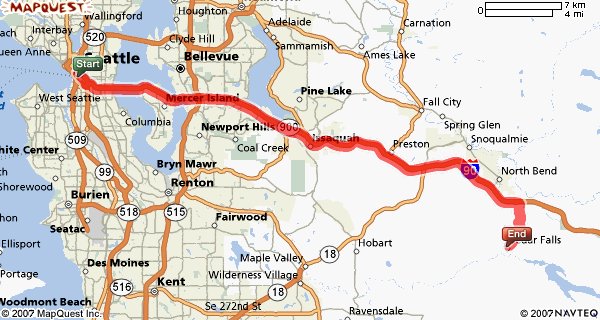 Route from Seattle to Rattlesnake Lake
Drive East on I-90 from Seattle about 30 miles.
Take the 436TH AVE SE exit- EXIT 32.
Turn R off the exit ramp onto 436th Ave SE, which soon becomes Cedar Falls Road SE.
Go 2.9 miles.
Turn R in front of a blue sign (about 100' after a 'Fire Danger' sign), then bear L through a gate.
(Note: if using mapquest, this is turn is equivalent to 17840 Cedar Falls SE, North Bend, WA)
Go 100' and turn L in front of a blue sign which reads 'Rattlesnake Lake Recreation Area Regulations.
Go 0.15 miles and turn L into parking area just before two red and white 'Do Not Enter' signs.
Park in the gravel parking lot. Start/Finish area is in the center of the lot next to the trail crossing.
The starting line is a 5 minute walk up the trail. A Porta-potty will be located in the parking lot near the start/finish area. In addition, two permanent rest rooms are located about 200 yards up the trail from the parking area, at the north end of the Iron Horse State Park (Cedar Falls Trailhead) parking lot. Lunch will be served at the start/finish area beginning around 11AM.