05/10/2009
sunny, near 70
Yard bird photos
Beautiful weather this weekend. I spent much of it in the garden, preparing beds. All I managed to plant was potatoes, partly because they're so easy to plant and partly because I kept running across them as I was digging the garden and felt sorry for uprooting them with their new sprouts just breaking into the sunlight. As a crop they don't make much sense for a small garden like mine - they take a lot of room and I generally only get a few meals out of them. Unlike zucchini, which also take lots of room but which feed us almost daily from mid-July to mid-October.
With mornings getting light by 5:30, I haven't been able to sleep in despite staying up nearly until midnight. I was doing very well for a few days, getting to bed by 10AM for the first time all year after camping out at Saddle Mountain, but bedtime seems to slip by a half hour every night until I'm back in my habit of staying up late. Anyhow, Saturday morning the maple tree by the corner of the back porch was full of warblers so I sat out there with my camera and tried to get photos of them.
05/17/2009
sunny, 77
Wheezer Obituary
Another beautiful weekend. Daniel and David finished school and came home for the summer. Nearly fifteen weeks ahead with no homework, no papers and few responsibilities. Today David brought Monica, a climbing friend, home and Swee fixed a nice lunch - baked eggplant and garlic bread - which we ate at the new wrought-iron table for four on the back deck in the sunshine.
more bird photos
- missed a few a good shots but got a few too. The best one I missed was a close-up of the male black-headed grosbeak on a sunny branch; the chestnut-backed chickadees drove him off just a second before I could get the lens on him. But on the other hand, I did capture the white-crowned sparrows having sex, and photographed the goldfinch pair as well as a Nashville warbler which I didn't realize I'd seen until I looked at the photo.
05/18/2009
AM ovc 55, PM sunshine, evening rain
After a quiet day yesterday we had lots of warblers around today - all Yellow, Wilson's and Townsend's. As soon as I went out on the back porch this morning I spotted two singing Yellow Warblers in the maple tree and heard another one singing nearby. When I came back out with the camera all I could find were Wilson's Warblers, the Yellows having moved north to the fir trees and out of sight. I did get several shots of the Black-headed Grosbeak, a one-eyed male Brown-headed Cowbird and the resident robin. Hearing Wilson's's singing out towards the driveway I decided to try the living room window by the swallow box. Good decision - during several sessions over the next couple of hours I
On another bird note, we seem to have three species of swallows nesting around the house this year - Tree swallows in a box in the garden, Violet-green in the box at the corner of the living room and Barn swallows in the carport. Several times while I had my camera sticking out the living room window one or the other of the Violet-green swallows hovered in front of my lens - too close for a photo at 300mm.
With all the distractions at home I didn't get to work until 2PM. I spent 5 hours on a series of queries mapping the exclude reasons associated with about 400,000 files over to about 5,000 subdirectories in which those files reside. Finished the queries but didn't make any progress on my primary task - documenting the system. As I told David, who had three papers to write last week, my job this week is writing a 10 page paper about the system I've built. He asked if anyone would read it; I told him probably not, but it still had to be good.
05/21/2009
Sunny, 70
I didn't get to work very early today, distracted in the morning by photographing birds again. Once there I had a productive day though, wrote about a third of the user guide which I had intended to work on yesterday until a serious performance issue with processing subdirectory exclusions cropped up. I spent all day adding a step to the file load to parse out and store all subdirectories and file-subdirectory associations for all files in the load so I could do a direct match on subdirectory rather than using like, which turned out to be painfully slow when the number of subdirectory exclusions began to grow. Parsing the subdirectories for a million files takes 10 minutes or so, but doing so accelerated the calculation of subdirectory exclusions for 5000 subdirectories from several days to several seconds.
05/22/2009
Sunny, 72
West Tiger
Last day of work, though I didn't work much and it actually isn't my last day. I'm returning the week of the 15th-19th ofJune, and in the meantime I still have to finish the user's guide over the next few days. But today Jeff and I hiked up Tiger and David and Monica joined us. Monica spent the night even though both Daniel and Susan had a stomach bug. She didn't have anywhere else to go for the day between finishing her Outdoor Leadership training course and her flight home to Delaware, and she likes it here.
05/23/2009
Sunny, 72
Rattlesnake Lake
In the morning I drove out to Rattlesnake Lake to meet with the biologist there, who also coordinates event usage of the Recreation Area. He suggested that I consider having my start and finish at the Iron Horse State park trailhead so as to avoid having to get a City of Seattle permit. We drove over and looked at the parking lot - 57 stalls not including the lightly-used horse trailer parking area. If I have about 70 runners and used the upper gravel lot of the Rattlesnake Lake parking area as overflow that might work. There were a couple of reasonably good places where we could have our finish area and serve lunch. We tried calling the state park but received no answer; budget cutbacks have made the remaining employees hard to reach.
After lunch I hung out on the back porch and was eventually rewarded with a couple of opportunities for close-ups of Wilson's Warblers in the maple tree. That seems to be the only warbler still around. Towhees, Song sparrows, Chestnut-backed chickadees and a flock of young House Sparrows also visited the feeder. A Starling flew in several times but left hastily upon spotting me.
05/26/2009
AM ovc 50, PM partly cloudy, 70
Mt Pete
On David's insistence Daniel and I hiked up Mt Pete with him today. We didn't head over there until after lunch when the clouds had thickened and scattered gray curtains of rain had begun to drop off to the southwest. We did a loop on the back side, up to the right and down the old road along the west side of the "mountain". I carried my camera in hopes of finding some birds and did - a White-crowned Sparrow on the way up and a Wilson's Warbler on the way down. The Wilson's call was unfamiliar, a loud, thick "chk", but the bird itself was quite unwary. A Bald Eagle soared overhead as we returned to the car.
On the way home I had David drive so I could take photos out the passenger side window. We stopped for fields bright yellow with buttercups and along 464th where I noticed Lazuli Buntings singing on Sunday when I rode past on my bike. I found the Lazuli Bunting foraging and singing in the ditch along the side of the road, so close it startled me and I scared it up into the cottonwoods. Fortunately it dropped down again, still singing, so I was able to find it and get a few pictures. That was a nice surprise; I didn't expect to get anywhere near it.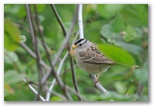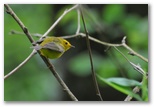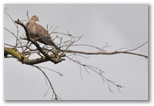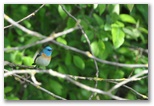 05/27/2009
Sunny, 70
The cat tangled with an oppossum and lost. She has a shunt on her rump to facilitate draining of her bite wounds back there and while the shunt is in place, she has to wear a collar like a plastic megaphone around her neck. Not only does it prevent her from disturbing the shunt, but it also gets caught on the door mouldings when she tries to slink around corners. She's clearly puzzled about it but doesn't lose her temper. Rather than board her at the vet's during our trip to New Hampshire, we decided that Susan would stay home to take care of her so just the boys and I will go to visit my folks.