---
SE Arizona Trip, July 31 - Aug 10, 2015
Emboldened by the
trip to Big Bend with John
and motivated by the knowledge that after the next few weeks I will never again be able to photograph birds that don't winter in the US, I decided to make a trip to southeastern Arizona. Ed and Delia would be going down the first week of August and I could fly with them if I needed assistance. Most of the Arizona specialties including Varied Buntings were still being reported regularly on eBird so I would have opportunities to see and photograph them. Since I missed Varied Buntings in Big Bend, they were my primary objective.
Why Arizona? There is a symmetry about it. 31 years ago in May 1984, I spent a month in southeastern Arizona birdwatching and helping Dave Sawyer with geologic fieldwork. I recall a mostly idyllic time of exploring the desert and mountain canyons and discovering birds that I had never before seen except in the bird book. It was my last trip before embarking on the work of becoming an adult.
That work - getting a job and finding a place to live, taking on responsibilities of family, work and church - I did, all under Susan's exhortation and tutelage. With her help, I did grow up. I gained a job and career and a wife and family and took my place in church and society but in so doing I lost something that was represented by that trip in Arizona. I'm still not sure exactly what it was that I lost because I did continue to hike and birdwatch and even to explore some, and of course growing up was itself an exploration, at least at first. Over time though, everything that I did as a responsible adult - work, church and family - all became prisons in which I was not good and from which I could not escape. Perhaps it was my courage that I lost, courage to act on my own behalf, to chart my own course and to believe in my own worth.
In the course of the changes of the past few years, culminating with the diagnosis of ALS two years ago, I have rediscovered the courage to seek what I want and to act on my own behalf. And among the things I realized that I wanted to do is to go back to Arizona and explore the desert again, to reacquaint myself with the birds and plants and lizards and mountains and photograph them while I still can. And the time for that is now because the birds are heading south in a few weeks and by the time they return ALS will have robbed me of the ability to hold a camera or tie my shoes or drive a car or pull up my pants or even pick my nose. This is my last chance, a last trip again, only this time my last trip as a (more-or-less) self-sufficient adult.
Postscript (a year later):
It was my last solo birding trip. I haven't slept out under the stars again since that night in Peña Blanca canyon. I haven't been able to drive for several months. I don't know how long it's been since I was able to tie my shoes or do up a snap or button on my pants. I'm still using the Canon G3X camera that I bought for the trip to Arizona, but that trip was the last time I was able to use the Nikon with the 80-400 zoom. And last but not least I can still pick my nose, though only just barely and I have to lean over and brace my wrist on my knee to do it.
More importantly I am still doing birding trips, only now I go with friends. Ed and I spent
a week in South Texas
last November. Last May I did a
three day cruise
from LA to Vancouver and a quick
trip to Indiana
in addition to numerous local birding trips. Not to deny that my days are numbered. Odds are I have at most two years of active life left followed by a year or two in a wheelchair on breathing support. I'll keep you posted.

7/30/2015 SE Arizona day 0 - Tucson
hiking on the dunes
on the last day of our Southwest trip five years ago.
I had brought some good coffee and a cone filter so that whenever I was in a motel I could fix myself a good cup of coffee in the morning. I don't think of myself as a coffee drinker and so it seemed a little silly to go to the trouble of getting a kettle and making my own coffee instead of drinking the stuff in the motel lobby. But this is my trip, I reasoned, and I enjoy good coffee so why not. John fixed coffee every morning in Big Bend and I think I found some comfort in the prospect of doing likewise.
By the time I finished shopping and packing all my food into a cooler out in the middle of the hot Walmart parking lot, my arms were exhausted and it was getting close to sunset. I had read about some Burrowing Owls close to the airport so rather than returning to my room I went looking for them. At sunset I was out east of the airport and hadn't found the owls. The spot marked in eBird was in the middle of a business park so I'd assumed that the owls were in a nearby vacant lot. They weren't. They were in the business park, and I found them at dusk too late for good photos.
Back in the motel room I discovered that my multipurpose charger that I had brought instead of the Canon OEM battery charger refused to charge the Canon batteries. I had also forgotten to bring any reading glasses. I called Ed and Delia and was able to arrange for them to bring my charger and some glasses but I would need to meet them at the airport Saturday. My plan had been to hike up Mount Wrightson tomorrow to look for Red-faced and Olive warblers then drive over to California Gulch in the Pajarito mountains west of Nogales and camp there tomorrow night. Saturday I would bird several spots there before heading over to Portal where I had reservations at the Portal Peak Lodge Saturday night. Returning to Tucson on my way to Portal would trim several hours off my Saturday morning birding time but I needed that charger.
I had never been to the Pajarito mountains and I didn't know much about them other than that the places I wanted to go were only a few miles from the Mexican border. I might run afoul of border patrol and or illegal immigrants. I was anxious as well about camping. Though I had brought a tent, I didn't know if my arms and hands would be strong enough to set it up and take it down. If not, mosquitoes might be a problem. Keeping warm might be a problem too. All I had was a pad and a sheet and blanket since I can't get in and out of a sleeping bag anymore. I would've been nervous even without ALS but knowing that I might not be able to take care of myself made my anxiety worse. I didn't sleep well.

7/31/2015 SE Arizona day 1 - Florida Wash
I stopped by to see the owls on my way out of town. They were all there, six or seven of them hanging around their burrow in dry gravel by a chain-link fence within 10 feet of the road. The
light was good and I took lots of photos.
nobody could see me and I began to relax.
water (not easy to do without using arms) and it felt great.
low bush quite close to me.
Coming into Rio Rico I pulled over at a parking area for trailhead for the De Anza Trail along the Santa Cruz River. The river was high and muddy and the grass and weeds around the parking lot were wet from recent rain. The light was poor but three species of kingbirds were hanging out in the
trees along the river.
I didn't make it to California Gulch. It would've been too late to listen for the Buff-collared Nightjar in any case. I found a quiet spot to camp under some oaks in Peña Blanco Canyon about a quarter mile up from Ruby Road. There was some sort of scout group camp near the lake about a half-mile away but they were my only neighbors and I was undisturbed. The grass around my camp was wet but the ground was bare and just a little damp under the trees. There were no ants and only one mosquito. I laid out my bedroll on the ground cloth from my tent and put on an extra shirt for the night. Fireflies flickered in the darkness. It took me quite a while to go to sleep and then I woke up around 1:00 AM in bright moonlight to the hooting of a screech owl. Western not Mexican. I played a recording on my phone to make sure and the owl came right over and spent the next hour hooting in the tree above me but I was never able to see it.

8/01/2015 SE Arizona day 2 - Peña Blanca a Canyon
the grass drew blood from my ankles. My hands had warmed up a little by the time I got back to the car.
and had looked Lauren up online before I left but he'd been booked throughout my stay.
woodpeckers and jays.
Highlights of the morning, in addition to the trogons, included a juvenile Grey Hawk which unfortunately flushed at close range before I spotted it, a Sulfur-bellied Flycatcher which I was able to photograph and a brilliant Hooded Oriole which I was not. Both Dusky-capped and Brown-crested flycatchers were common so I began to learn how to distinguish them, though I will have forgotten before I get back to Arizona again. But next time I'll have a guide.
In Wilcox we stopped for groceries and admired the Barn Swallows nesting over the entrance to the Safeway. In San Simon we stopped for gas, coffee and a restroom. When I finished I couldn't pull up my pants and had a moment of alarm but managed to hook them against the edge of the sink and slide them up to my waist. I walked out holding them up with both hands, found Ed and had him zipped them up and snap them for me. Could've been embarrassing. We parted in Rodeo and I drove west up the long gentle slope to Portal. They were about to stop serving dinner at the Portal Store when I arrived but at Peg's request they kept the kitchen open for us.
Peg was no less energetic and engaging than the girl I remembered from 40 years ago when we birded together in Colorado and Arizona. She seemed to know everyone around the place and everyone seemed to be either a birder or a guide. Portal must be one of the few places where it is completely normal to be carrying binoculars and continually peering up into the treetops. I felt right at home. We ate dinner outside in a patio enclosed by a stone wall under a big sycamore tree. An Acorn Woodpecker and a White-breasted Nuthatch took turns at a suet feeder while a bright orange Hooded Oriole slipped in and out of sight in the branches overhead. Peg checked the Western Screech Owl nest hole for me but the owls weren't home.

8/02/2015 SE Arizona day 3 - Chiricahuas w/ Peg
warbler.
cooperative.
success.
On the way back down through Paradise I got another chance to photograph a Montezuma Quail. We'd seen one cross the road in front of us on the way up but I hadn't been quick enough with the camera
to get a photo. I almost missed this one, probably the same bird, as well.
birds showed up though and I took lots of photos. I was particularly pleased with the hummingbird shots.
similar desert birds.
Naturalist Journeys
. She has birded and led trips in Central and South America and in Africa. I chose a different route, diverted for a time from nature and birding for the sake of church and family. I think she was clearer about what she wanted than I was, and had the confidence to pursue it.

8/03/2015 SE Arizona day 4 - Chiricahuas w/ Bob and Bettina
There were other rewards though - morning sunlight illuminating the crags above town, a cottontail softly hopping through the yard, and uncharacteristically quiet Cactus wren at the suet feeder along with a Ladder-backed Woodpecker, a Hooded Oriole among the yellow flowers of an acacia bush, a Black-chinned Hummingbird displaying his violet throat. I counted 26 species during my morning watch and 14 in the evening including my only Blue-throated Hummingbird of the trip. It was gone
before I could get a photo.
perching together in the top of their Sycamore nest tree as soon as we arrived.
family earlier this summer. The local reptiles were easier to photograph than the birds.

8/04/2015 SE Arizona day 5 - Birding etc w/ Ed and Delia
Ed and Delia had gotten a flat tire on the road up to the ranch so they were headed over to Animas to see if they could get it repaired. I followed them over there in case they had a problem with the donut spare. Compared to the San Simon valley between Rodeo and Portal, the Animas valley is a rocky and arid with little vegetation other than sparse grass cover. In one of the few small trees along the road, we spotted four young Swainson's Hawks as we drove by. I stopped and backed up and
Ed got some pictures. My only photo was through the windshield.
The ranch, which belonged to Delia's parents, is tucked way back up in a canyon near the crest of the Peloncillos. The Peloncillos are not as high as the Chiricahuas so they lack the montane oak and pine forest. The vegetation along the crest of the range is mostly scrubby oak and juniper woodland with mesquite and acacia grassland lower down. Thanks to ample monsoon moisture this year the grass is tall and everything is very green, from the weedy valley floor to the shrubby bunchgrass ridges and everything in between. The ranch consists of a long low house and several outbuildings which, though well-maintained, are slowly being subsumed by their setting. Grass and shrubs encroach on
the walkways; lizards roam the walls and oaks embrace the buildings with scraggly limbs.
a large Black-tailed Rattlesnake
which in turn startled us. The Canon G3X did a surprisingly good job with the photo, taken in very low light. Poorwills and a couple of Western Screech-owls serenaded us on
the way back down.

8/05/2015 SE Arizona day 6 - Peloncillos to Sierra Vista
Skimmer Dragonflies flitted over the algae-covered surface.
brilliant reds of the Penstemons.
property even though their ranch is not large by local standards.
bird in a yucca
. I left late for my meeting with Peg down the valley but was able to make up time on the road and even had a few minutes birding in the valley on my way out. There were lots of Lark Buntings in the
mesquite and lots of large and colorful Lubber grasshoppers in the weeds.
After a stop in a coffee shop in a trendy little mall, we continued on to Sierra Vista. A friend of Peg's maintains a very nice hummingbird garden on the edge of town which has been frequented recently by another Plain-capped Starthroat. I hung out there until
it showed up
then drove over to the Casa de San Pedro to join Peg and her group for dinner. The food was excellent and the room very comfortable.

8/06/2015 SE Arizona day 7 - Ramsey Canyon, Carr Canyon
I caught up to Peg and her group a short distance up the trail. Two rare birds had been seen recently in the canyon, a Tufted Flycatcher and a Flame-colored Tanager. The flycatcher had nested and the tanager had attempted to but had apparently failed due to disturbance by birders. Perhaps it had tried a second time because it was still around, showing up periodically to feed on Wilcox Barberry fruits along the trail in the lower canyon. I waited for it for an hour so with a handful of other birders but we didn't see it. A Western Tanager came into the Barberry instead, and a warbler which I thought was an Olive but turned out to be a juvenile Hermit. The Hepatic Tanager stayed mostly in the treetops overhead. Painted Redstarts foraged in the oaks and on the ground but
were always one or two steps ahead of me and my camera.
When the flycatcher called again we relocated it down by the stream and I watched it for about a half hour, missing many good photo opportunities. A Mountain Spiny Lizard sunbathing on a rock was a much more cooperative subject, as was a large skipper-type butterfly on a young sycamore tree
along the trail.
scolding as they foraged in the oaks around me. That was fun.
I arrived a couple of hours before sunset and had the place to myself. There wasn't much bird activity. A century ago there was a lot of human activity - a town was built to support a mining district which sought gold, silver and tungsten in the area's abundant quartz veins. Although mining continued in fits and starts until the 1950s, I don't think the district was ever very profitable. I spent too much time looking for birds so didn't start supper - a bag of chips and a tin of sardines - until sunset. As dusk settled in the thunderstorms which had been rumbling over Bisbee and off to the south began to close in with frequent lightning and distant thunder. I considered moving to a nearby group shelter but took my chances out in the open, hunkered down under
my blanket and stayed warm and dry.

8/07/2015 SE Arizona day 8 - Carr Canyon, Beatty's Ranch, Madera Canyon
close-up photo ops the camera refused to focus on the bird.
of the one species I still haven't captured adequately, the Magnificent Hummingbird.
a bird feeder frequented by a friendly White-breasted Nuthatch.

8/08/2015 SE Arizona day 9 - Mt Wrightson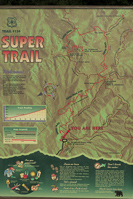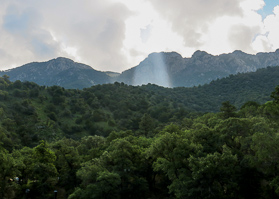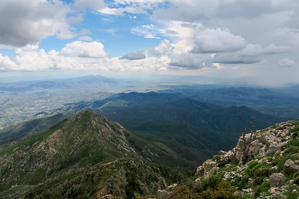 Thirty one years and three months ago I saw my first Olive Warblers and Greater Peewee in the pine forest up on top of Mount Wrightson. Recalling, albeit dimly, my hike from that day and the birds I saw, I wanted to make sure to get up there again. Weather precluded doing the hike earlier so today was the day. Unfortunately when I got up on top I discovered that the pine forest was gone except for a few little remnants, burned by a fire a decade or more ago. The high mountain
birds were mostly gone too but the flowers and views were even better than I remembered.
Horned Lizard
.
There were birds too but they stayed out of sight.
photographed my last Red-faced Warblers of the trip. I'll miss them.
gray curtains of rain rent from time to time with bright lightning bolts. When I realized that one of the developing storms appeared to be heading my way I didn't linger too long on top.
rainbow just peeking over the summit ridge
.

8/09/2015 SE Arizona day 10 - Madera Kubo hummingbirds and home
decent photo but not the one I was looking for. The birds were a lot more responsive to song recordings a week ago.
I needn't have worried. I pointed out the damage when I returned the car and even before I realized that I couldn't write well enough to fill out the accident report at the front desk, the guy called me from the lot and asked if an $80 charge for the damaged bumper guard would be acceptable to me. I assented and tried not to sound too relieved about it.