2008 Pendleton Family Christmas Letter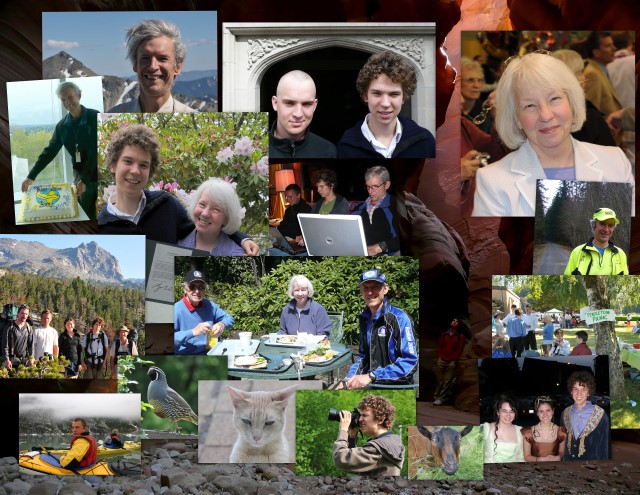 December 2008
Merry Christmas from the Pendletons in snowy Auburn Washington. We're in the midst of the longest spell of snowy weather to hit western Washington in a couple of decades and we're loving it. We're also happy to have the boys home from college. Daniel and I have been outside shoveling our hearts out and cross-country skiing up and down our road. Susan has been ensuring that all the juncos and chickadees in the neighborhood have plenty to eat. David has been photographing the birds enjoying their bounty.
Both David and Daniel are students at University of Puget Sound in Tacoma. Though it's only 30 miles away, we still don't get to see them as much as we'd like. David is a freshman and interested in computer drawing; you can see annotated examples of his recent work on
his blog
. When he's not drawing or studying, he hangs out at the climbing wall or on the tennis courts. Daniel is a sophomore and resident assistant; shepherding his flock keeps him too busy to do as much kayaking, rock climbing and snowboarding as he would like. He's doing a combined major in Religion and Spanish and spends weekend afternoons twirling girls as a cheerleader for the UPS Loggers.
I've been taking an extended break from gainful employment since leaving Expedia in May. While I've enjoyed the time at home I am starting to miss the stimulation and camaraderie of work. With both boys away from home Susan and I have been lavishing lots of attention on the cat. She's getting spoiled. Perhaps we need to go on vacation and leave her alone for a while.
Susan has observed that our vacations often involve a marathon - Napa in March, Boston in April, Maui in September. We also organized a couple of marathons this summer: Rattlesnake Lake with 50 runners in June and Light at the End of the Tunnel with 140 runners in August, for which Susan designed the logo and David drew it in Photoshop.
Daniel missed both events, having left for a 2 month course in ski mountaineering and sea kayaking in Alaska the day after finishing his freshman year at UPS, then returning to UPS for resident assistant training in the middle of August. He demonstrated his newly-acquired skills by planning and preparing all the food for our week-long backpacking trip with cousins Silas and Kirsten in the Wind River Range in Wyoming.
You can find more info and photos of our activities at
brianpen.com
We continue to be grateful to Jesus for the blessings of good health, loving family and hope for the future, and we wish the same blessings upon you all.
Photo captions clockwise from upper left:
Brian on Mt Aix in Washington in June
Daniel and David. Daniel cut his hair short before his mountaineering course in Alaska.
Daniel, David and Brian in the PT room in Jackson with laptops in their laps, as usual
Susan at reception for David's graduation from Charles Wright Academy
Brian decked out in Marathon Maniac gear while running a 50K race in February
The Pendleton Picnic on the second Sabbath of the Washington Campmeeting in June
David with Emily and Anna, organizers of the Venetian Ball at CWA in March
Striper, one of our two goats, poking his head through the fence, as usual
Daniel deep in Buckskin Gulch in Utah during spring break
David exercising the camera he received as a graduation present
Puss peering in the window from the roof of the garage
John, Susan and Brian having lunch the day before the Boston Marathon in April
California Quail posing on the fence along our driveway
Daniel sea-kayaking in Alaska in June
Silas, Daniel, Kirsten, David and Brian backpacking in the Wind Rivers
David and Susan with David's Presidential Award autographed by Dubya
Brian with his going-away cake on his last day at Expedia in May