---
7/03/2018 Hidden Lakes Peak
(photos by Darchelle)
A rare Alder Flycatcher was discovered at Bacon Creek along highway 20 near Marblemount a couple of weeks ago. I persuaded Ed and Delia to drive me up there to look for it but we did not arrive until midafternoon and the bird was silent. I wanted to try again early in the morning when it might still be singing, and therefore identifiable, so Darchelle and I drove back up there and spent the night at the
Totem Trail Motel
outside of Marblemount. Clean and quiet with a friendly owner, we would happily stay there again. The flycatcher was singing when we reached
Bacon Creek
at 7AM. Mixed deciduous brush under a power line is not what I think of as Alder Flycatcher habitat but there it was. We heard a Sooty Grouse there too, a good omen since we hoped to be seeking its Alpine cousin along the Hidden Lakes Peak a few hours later.
we would slide down the gully and over the 100 foot cliff of the headwall.
The flowers in the avalanche meadow were just beginning to bloom so Darchelle took a few pictures on the way down.
7/06/2018 Hart's Pass
(photos by Darchelle)
Wandering Washington trip
we've been looking for an opportunity to get back there to chase some grouse, in particular Spruce Grouse and Ptarmigan at Hart's Pass and Dusky Grouse at Sun Mountain Lodge. This was our opportunity.
We ate supper at the Old Schoolhouse Brewery, inside because the riverside patio was full. Had we held off ordering for another five minutes, we could've eaten outside. Inside it was crowded and noisy; the food was okay and the beer not as good as I remembered. After checking in at the Abbey Creek Motel we still had a half hour till sunset so we drove up to Sun Mountain Lodge in hopes of catching a Dusky Grouse. A brisk but still warm westerly breeze was sweeping down the valley. Clouds blocked the sunset but the eastern sky was clear and bright. We walked a short loop trail west of the tennis courts. A large Accipiter flushed off a snag on the ridge, a little too slender for a goshawk. Swifts, first one then a handful, beat their way into the wind overhead - Black Swifts commuting home for the night. a couple of deer, but no grouse, were grazing around the lodge when we returned to the car at dusk. In the morning though, a hen and four sub-adult chicks were
poking around in the grass by the tennis courts, clucking softly. One grouse down, two to go.
Despite a large snowbank crossing most of the road at one point, we were able to drive all the way to the gate on the road up to Slate Peak. The little parking area there affords great views down into the basin on the north side of the ridge were Ptarmigan are reported to live. Against Darchelle's wishes, I stepped out onto the snow and peered over the edge, studying the talus and snow below for about five minutes until a vigorous rainstorm swept in from the south. No Ptarmigan. We waited in the car for the storm to clear. When it did, several men on motorcycles showed up. One of them had forgotten his gloves at a previous stop and his hands were numb with cold so Darchelle gave him her hiking socks. Then we drove back down the road to the big snow bank and followed a trail over the ridge and part way down the other side, again in hopes of spotting a
Ptarmigan. No such luck though when storm cleared and the sun came out, the views were glorious.
7/07/2018 Cutthroat Pass
(photos by Darchelle)
Last year we hiked in to Cutthroat Lake because we didn't have time to get up to the open high country around the pass. This year we dedicated a full day to the outing and made it to the pass and beyond, though because we stopped for a comfortable breakfast in the sunny courtyard at the Mazama store first, we did not start up the trail until 11.
8/05/2018 Another Dog Dream
The dog isn't very important in this dream but it has characters from some of my other dog dreams so I think it is related. Unfortunately I did not write the dream down right away so I have lost some of the details.
I am at a rustic summer camp, in the dining hall. John McLarty is cooking meat at some folding tables on a stage at one end of the hall. I have to leave but he assures me that there will be some left when I return.
I am at a Y in the road not far from the camp. A white pickup truck drives by and takes the left fork but I don't catch a ride in the pickup because I am going down the right fork. I walk down the road to the grounds of the camp and I need to pee but there are no bushes to go behind. I enter one of the buildings, a bunk room but there is no bathroom so I stand on the bed and get ready to pee on the wall behind it when suddenly I hear somebody coming in. I am embarrassed that I even thought of peeing inside and fortunately I do not get caught. I leave the cabin and walk a short distance over to the dining hall. A girl is standing at the foot of the steps up to the dining hall. When she sees me she says "You can pee like this" and she squats down so that her skirt forms a little tent around her. I walk past her along the side of the dining hall to look for a place to pee but people can see me from inside the dining hall so I give up trying to pee.
I enter the dining hall and am disappointed to see that there is no more meat left, only pancakes and some chili. I go up to the stage to get some food anyhow. A boisterous but friendly Golden Retriever charges in from a side door, races past the stage almost knocking some people over then disappears. John Pepper calls out from a table near the door from which I had entered and says that the chili is too hot. I am not very interested in the pancakes but maybe I might still like the chili because I know that John does not have much tolerance for spicy food.
This is my fifth dog dream in the past three years. My
first dog dream
, more than two years ago, also featured John McLarty and a friendly but irritating Golden retriever. In my
second dog dream
, about a year ago, the dogs are dangerous and John Pepper shows up but John McLarty is only referenced indirectly. In a
third dog dream
two months after that, I killed a God, I mean dog, which was threatening to kill me. My
fourth dog dream
about a month later on this past New Year's Eve featured John McLarty and two dogs which were messy but otherwise harmless. Now in this dream John McLarty still plays an important role but the dog is almost an afterthought.
8/07/2018 Darchelle passed her exam
We are not surprised but are grateful nonetheless. Her passing score is the culmination of and reward for approximately 160 hours of studying over the past two months. Now she just has to send in her score with a form and a little money and she will become a fully licensed Mental Health Therapist.
8/14/2018 Anniversary Hike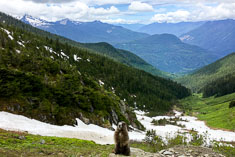 Daniel called around half past noon today and offered a hike together. He picked me up around 1:30 PM and we drove up to Mount Baker, having decided on Heliotrope Ridge in part so that we could stop to pick up a glass straw at the little bakery in Glacier on the way. Now that Seattle has outlawed the use of disposable plastic straws, a personal glass straw has become an indispensable accessory for visits to Daniel's favorite Tiki bar. Unfortunately the bakery was out of them. We bought lunch instead.
Daniel drove the narrow but mostly paved road from the highway up to the Heliotrope Ridge trailhead in about 15 minutes. I suspect most people take twice that long. The hike was fairly quick as well, about two miles through the woods to a junction where we took the right hand trail up an open ridge to the climbers camp. Aside from breathing hard I found the ascent pretty easy though a couple of steep dirt patches were pretty intimidating on the descent. The rocky bench where the climbers camp was mostly snow-free with prominently striated ledges and beautiful flowers but steep snow and the relatively late hour kept us from climbing any higher. I reflexively looked for Ptarmigan but did not find any. We hurried down both the trail and the access road and reached the North Fork Brewery 20 minutes before they closed.
9/03/2018 Limitations
Interesting fragment of a dream last night:
Darchelle and I are pushing a wreck of a car up a hill on a dirt road. The car is just a rusted out chassis, a pitted gray steel frame with no wheels, a dented roof and the front doors broken and falling off. We reach the top and I realize we are at a pass. Ahead of us the landscape falls away in a gentle slope down to a distant valley and everything - the road, the fields on either side, the mountain to our right - is covered with snow. When I see the snow, I realize that there is no way that we will be able to reach our destination. We have many miles to go but we are not equipped to walk through snow, and even if we were, it is too far to walk anyway. I notice a narrow sinuous ski track winding down through the snow on the road ahead, left by someone telemarking on Nordic skis, and I wonder why they skied on the road, which is barely steep enough to ski, instead of down the adjacent mountainside.
The snow is the clue to the meaning of the dream. Snow represents winter, which traditionally in Western literature as well as in my dreams, represents a time of death. Darchelle and I are approaching my death, and it is a time of looking back at my life. Telemarking - downhill skiing on Nordic skis - was an activity I taught myself and did almost exclusively by myself. The ski tracks in the dream represent my involvement in the various areas of my life, including career and intimate relationships as well as recreational activities and interests. The tracks run down the road rather than down the more challenging and rewarding, but also intimidating, side of the mountain. Why did the skier choose the easier route?
Fear has too often in my life constrained me to choose what seemed an easier way. Fears of rejection and appearing inadequate discouraged me from seeking advice and help in pursuing a career in biology. Fear of failure deterred me from planning the course of my own life and instead led me to relinquish my agency to others, letting them (disguised in part as God) tell me what to believe and whom to marry. Fear of being judged as inadequate prevented me from going blue at Microsoft which cost me millions of dollars worth of stock options. That same fear later led to boredom and burnout during my career at Expedia, and limited my engagement and achievement in recreational passions such as birding as well. Ironically in view of the dream, it was only in solo physical activities such as running, and yes cross-country skiing, that my fears did not present much of an impediment to my success.
But now in my life a different limitation applies. I overcame my fears and chose to forsake belief in God, deliver myself from an unhappy marriage and pursue and marry someone whom I loved. But the vehicle is falling apart. My arms and hands, the front doors of the car, are broken. My disabilities prevent me from doing most of the activities I have loved and limit my involvement in the few - including hiking and birding, that remain. The end of my life is approaching and Darchelle and I will be able to go no farther together.
9/11/2018 Depression
David and I spent the afternoon together yesterday. The weather did not favor hiking in the mountains so we took a late afternoon walk in Discovery Park instead then came back to the house and hung out while Darchelle fixed us a supper of pasta and eggplant with fresh corn from Conway and sugar snap peas from Costco. On our walk in the park we wandered through the South Meadow harvesting a few sweet pea seeds from the few pods that weren't yet popped, then followed trails through the woods to the road and along the road down to the North Beach. The tide was near high and a handful of Sanderlings danced at the waters edge probing in the wet sand. One of them, each time a wave came in, stayed put and bathed for a few seconds until the water drained away again. We wondered what the Sanderlings were eating because they didn't seem to be chasing either the kelp flies or the sand fleas which were both common on the beach. BTW, the latter are not fleas but rather a species of Amphipod officially called
Pale Beach Hoppers
. They eat decaying kelp. I don't know what eats them.
While David and I stood still watching them, the Sanderlings worked their way closer to us up into the dry sand where they continued to probe under the surface with their bills. When we began to move again they trotted back to the waters edge, still probing.
After supper Darchelle retired to the living room to play the piano while David and I continued to hang out around the kitchen counter. Somehow we got to reminiscing about macabre highlights from years past that struck us as funny at the time, including
Wheezer's funeral tour through the garden
,
Dead Puppies
and, weirdest of all, the midnight sight of a flock of sheep strewn across the highway after a tractor-trailer truck ran into them on a pass near Mono Lake in California.
After David left we went to bed and I dreamed about being depressed.
I am in bed in a completely dark room and feeling so sad and alone that I start crying.
I need to urinate so I walk down the hallway outside my room. I am apparently in a college dorm; the hallway is dimly lit and crowded with tall young man mostly dressed in blue and gray. Feeling very out of place I walk down to one end of the hallway without finding a bathroom. As I am returning back towards my room one of the young men approaches me and says "You look lost. Can I help you?" I ask him where I could find a bathroom and he tells me that the men's room is at the other end of the hall on the right. When I get to that end of the hall there is a crowd of people standing around outside the bathrooms and I think they are women but I am not sure. I don't recall whether the men's room was supposed to be on the right or the left and the two doors are unmarked. I don't know what to do so I just stand there.
I don't generally feel much in dreams so this one made an impression on me.