---
10/02/2013
While I was out running this afternoon a dark cloud strafed me with ice pellets out there on the road and left me feeling so invigorated that I decided to tack a couple miles at race pace onto the end of my run. As the storm receded to the east a vermillion glow from the setting sun spread along the western horizon but the sun's warmth was barricaded behind a crenellated wall of gray cumulus guarded with pallid spears of stratus. The wall held unyielding until the glow imprisoned behind it was dead, though just before that happened, ambiguously, the battlements on top of the wall flared up with gold and orange and across the sky to the east, the two butt ends of a rose-colored rainbow appeared, its invisible arch framing salmon-colored clouds on a backlit field of blue-gray.
An omen, a harbinger of hope, or just an atmospheric phenomenon. I don't know.
10/03/2013 Salmo Pass
Sleeping in my car at a pulloff about a half mile below the pass. It's silent and still here. Above the silhouettes of the trees the darkly brilliant Milky Way rotates imperceptibly overhead. Underfoot starlight glints dimly on crusty snow. My boots crunch on frozen ground. I am alone.
I arrived late in the afternoon and happened across Blair Bernson and another man (Terry?) driving down from the pass to get some supper in town. They'd be coming back up, they told me, to go owling and asked if I'd like to join them. I did. We drove to the end of the road and walked out a quarter mile as the spires of spruce fir receded into darkness around us. We played the Boreal Owl calls but heard no responses and gave up after an hour or so. Blair and I decided to keep trying so we parked at the pass and started walking up the road towards Salmo Mountain. It was about 8:30PM, a clear moonless night, temperature around 32F with patchy snow along the road. Right as we started out we saw something moving in the road in front of us - a Snowshoe Hare. It was a medium-sized gray rabbit with outsized white feet and it was hopping casually in a zigzag pattern down the road towards us. As we stood watching with our flashlights on it, the hare hopped almost right up to our feet, so close that we could hear the "pflop" of its feet each time it landed. Continuing up the road, we played Boreal Owl calls on our phones and almost immediately heard the sharp "skiw" calls of a Boreal Owl in response. Though it sounded quite close to the road and called repeatedly, we couldn't spot it with our lights.
Later, lonely perhaps, I drove to the top of Salmo Mountain thinking I might get a cell phone signal and call Susan. I called for owls in several places on the way up but with no response. Up on top I did get a faint signal but was not able to place a call. Just as well, I suspect, for my peace. Fear and sadness have etched new paths of pain across the worried landscape of my mind. Out here though, the indifferent forest, the slender firs and ragged spruces, the snowbound huckleberry bushes and frost-withered understory restore a measure of contentment. And tomorrow no conversation, just cold still air, bright sunlight, a few birds and the snow-covered trees of a forest closing up for winter.
10/04/2013 In search of Boreal Chickadees
Blair of course saw them yesterday right at the pass, but I did not. I found only Mountain Chickadees on a walk up to the pass in the frosty air before sunrise. Perhaps I didn't eat enough for supper last night because every time I stopped, I felt faint. After breakfast I walked around the pass some more but still didn't heard only Mountain Chickadee calls. Not that the two calls are much different, but none of the chickadees I actually saw were Boreal.
Back in the valley by 3PM, I decided I had time to drive up to Bunchgrass Meadows, another place where Boreal Chickadees had been reported. I found them, shortly after sunset, near milepost 10 on FR 1935 after wandering down to the meadows and back up to the road again. There were more camps than I expected up there, hunters or ORV'ers I suppose. I tried not to attract attention. I heard the chickadees first then got a few quick glimpses as they moved through. Even allowing for the dim light, the colors were much duller than I expected, just shades of gray. No chance for photos; I was afraid that if I tried to follow the birds with the camera, I would risk not seeing them
well enough to confirm the identification. Another BVD (Better View Desired) species.
I dreamed last night that I was running the 50K tomorrow with Susan. The race is two loops with a cutoff time of 3:45 for the first loop. Near the end of the first loop Susan and I stoppped to eat dinner out and when we got back on the trail a burly man pushed past us - the Sweeper. "Hurry up," he said, "You've got to get there before I do." We ran after him, jostling for the lead. Susan fell behind. Things seemed dark, as if it were night. I ran ahead of the sweeper but lost the way just as I was about to reach the baseball field and track where the start/finish was located. I was almost out of time.
A car near me in the parking area backed one wheel into a deep hole then pulled out again with tires spinning. Someone told me to go the other way; I was not on the route. I recalled that I'd forgotten to check in at the start so I probably wouldn't be able to run the second half anyhow. Because I'd stopped to eat dinner with Susan, taken time to be with her, I wouldn't be allowed to run the second half and finish the race. My feeling was resignation - I was already disqualified, so it didn't really matter.

10/05/2013 Mt Spokane 50K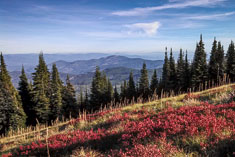 I did finish the race, but only because I was the sweeper; I was more than 20 minutes past the cutoff at the first half. We started 10 minutes late and I slowed my pace somewhat to accomodate my fellow sweeper, a cute young woman from Seattle, but I can't really blame her because I don't think I would have made the cutoff in any case. It's a tough course with close to 3500' up and down in each of the two laps and a total distance of at least 55K. Nice scenery though, and pleasant running. The second half was particularly difficult. For 10 miles (the section farthest from any aid) I felt faint every time I stopped to walk and at times questioned whether I would be able to finish the run. I had my phone with me so could have called for assistance if it came to that. Cleaning the course was quite a bit of work; there were a lot of flags to pull and a couple dozen wooden sign stakes to carry. I was glad of that though - it helped to justify my late finish. James and Candace were packing up when I finally showed up at the finish, so once I'd had something to eat I helped them out. I enjoyed our chat about race-directing before I left.
10/15/2013
A writer needs an audience. I've always assumed that I was that audience for this journal since I don't know if anyone else besides me ever reads it. I do read it, and derive pleasure from the memories that the words and photos revive. But if I'm not going to be around long enough to enjoy it, shall I keep writing anyhow? And what shall I write? What's in my heart isn't always appropriate for the internet, or even sometimes for my wife, my sons, my closest friends. Isn't always particularly interesting to read either, given my tendency to cover the same emotional ground, wring out the same soggy sponges saturated with self-criticism and fear. On the other hand, an impersonal list of miles hiked and birds seen with photos of same isn't very interesting either. What the hell? Three years from now I may well still be able to read, even if I can't do anything else, so I'll keep writing.
Yesterday, fulfilling a promise, I made appointments for Dr Frerichs (to have recent skin-spots removed) and for a neurologist at the Virginia Mason Neuroscience Institute, certified by some ALS association to care for ALS patients. It turned out that a neurologist was free at 2PM, so I took the appointment. I was concerned that Dr Sridvatsal might not be that good, if he was free on a few hours notice, but I needn't have worried on that account. I also recognized a significant amount of fear about the prospect of making real what until that point could still be dismissed as my own
hypochondriac suspicions. Considered canceling, decided to go ahead with it.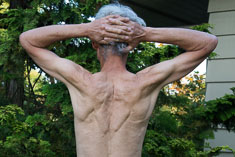 Dr Sridvatsal turned out to be female and competent, as best I could tell. She spent about 20 minutes asking about all my symptoms, and about other symptoms of ALS that I haven't experienced, and another 20 minutes checking the strength in my arms and legs and tapping them in various places with a little rubber-tipped hammer. Though she didn't share all her findings and conclusions with me (and I didn't ask as many questions as I could have), she did explain that my shoulders were indeed abnormally weak, and that my reflexes were also proportionally weak. Weak muscles that are not stiff or spastic, along with fasciculations and cramps, indicate a problem with the lower motor neurons. Strong reflexes would have indicated that the upper motor neurons were also involved, a prerequisite for diagnosis of ALS. My weak reflexes could indicate either an early or atypical development of ALS, or some other, rarer condition. She told me that my weakness would continue to worsen but she couldn't say how quickly I would decline, or whether I could be treated, without doing additional tests to try to determine the cause of the problem.
The additional tests - an MRI, an EMG and a bunch of blood tests - will be done on 11/7. I'll see both the ALS doctor and Dr Sridvatsal that morning as well, so in just over three weeks, I'll get my sentence, the options being (in order of probability, I suspect) disability and death in a few years, lifetime disability or recovery with minimal or no disability. Something to look forward to. Meanwhile I cling to the now-precious uncertainty of not knowing for sure, and therefore being able to continue trying to pretend that I'll be OK.
Susan and I celebrated by going out to dinner at the Raininer Grill. I had my usual grilled Romaine and wild salmon with a pint of Irish Death in place of the usual Nine Pound Porter. Susan had the rib steak. Conversation turned a bit testy at times, particularly when she started talking about Jesus using me to save my father, and how he could save me too. I don't like being reminded of the delusions to which I in times of weakness I have clung, and which I now regret.
10/16/2013
Finally made it out for a run in the evening after a dreary day. The overcast never cleared though by sunset the clouds broke up enough to reveal the daylight draining away. Physically I felt good after the first mile or so. Towards the far end of 180th, oppressed by sadness and depression, I stopped to walk. I considered how I have no place of safety and thought of Jesus, and to my surprise I found myself able to believe in him for a change. I considered that he is my place of safety and started to cry, walked and cried for a few minutes grateful for the light of faith on a dark day. Did 6 pushups in the road and felt strong, another 5 when I got home though the weakness returned in my arms and shoulders by bedtime.
10/18/2013 Gray's Harbor
We didn't find much on the north side of the bay, either at the Hoquiam STP or the Tonkin access to the game range, but while over there Doug, who gets hourly text messages from eBird regarding species he hasn't seen yet this year, received word that Ryan Shaw had a Tropical Kingbird south of Raymond. He was coming north up the coast and before long, had another at the Willapa airport. Doug called him from Aberdeen and on the way out of town heard back - now they had one at Tokeland so back to Westport we went. They were just leaving as we arrived so they turned around and showed the bird to us, a bright yellow kingbird flycatching from the top of a Sitka spruce in town. Quite out of place though not unexpected since they're regular fall vagrants along the coast. Nonetheless I wasn't counting on one. Ryan also, viewing Doug's plover photos, immediately identified the golden plover as a juvenile American based on the wing projection and lack of buff color in the face. That made three species for me for the day, not counting the Palm Warbler I heard sing twice
at Bottle Beach but couldn't locate for Doug and Blair.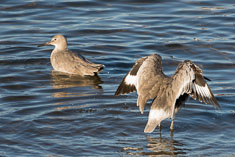 We checked for rare godwits (not reported recently) at the Tokeland Marina and photographed Willets with the Marbled Godwits, then wrapped up the day by driving the beach (and walking some) at Grayland in another futile search for Snowy Plovers. They're there, but being small and brown and white on pale brown sand littered with brown and whitish flotsam, they're very hard to spot. Not unlike Ptarmigan in their way. Feeling just happy for the first time in a long time, I ordered both the oysters and the scallops at Bennett's Restaurant and Grayland and of course, couldn't finish them despite eating too much for the first time in a long time. They'll furnish supper on the drive home tomorrow evening. We stayed at the spouse-worthy Chateau Westport. Splitting the room with Doug brought the cost down to the price of a double room at the Seagull's Nest, or wherever it was that I've stayed before.
10/19/2013 Pelagic trip
being identified at the time as Sooties. Oh well, I'll take them, #340 for the year.
bird I never expected to see let alone pick up today, and I even got decent photos.
10/24/2013 Snoqualmie Mt
Engaged in conversation with Swee I didn't leave until 11AM, stopped for gas, started up the overgrown rope tow hill at 1PM. The old rough track up the mountain is well-worn these days, even though still not an official trail. About half way up the first pitch it crosses a rotting log broken lengthwise into two or three sections; I remember when it first fell, a blowdown more than three feet in diameter and cumbersome to clambor over. The waterfall was dry. I looked over the edge and wondered if I would die if I dove off. Not tempted to find out. A single bluebell was still flowering from a crack in the ledge. I photographed it. Continuing up, tired and faint when I stopped probably due to not eating since breakfast, I reached the hanging valley, passed the little cave where David scared himself and I found the fluted stick of gray marble. I followed the faint track along the steep hillside carpeted with yellowing sedges, reminding me of my late backpack trip up Clark Mountain some years ago, about this time of year. Looks like that trip might turn out to have been the closest I'll ever get to the Napeequa valley. I might have reached it but got chased out a day early by an approaching storm. I did reach the peak of Clark Mountain where I'd had just enough cell phone reception to call the bank and transfer $16,000 to pay for our new roof. That
must have been about five years ago.
Late for my meeting with Susan, I called her and we talked while I sat on the steep slope at the head of the valley amidst stubby alpine huckleberry bushes whose browned leaves flushed like birds when I brushed my hand over them. We talked until 5PM, then I hiked down until near dusk at 6, my legs shaky with fatigue and toes crying for relief. We met in Auburn and continued to the bird club meeting in Tacoma, the last until January when I'll do a presentation on my Washington big year. Susan was hungry and I'd missed my evening beer so we dropped by the Spar on the way home. Though I picked the oily crusts off my fried zucchini my stomach hurt anyway. I felt at peace but our conversation was anxious like a dream that keeps going but never gets anywhere. Too tired to listen any longer, I didn't even shower before bed.
10/25/2013 O'Grady
I carried the big lens for the first time since last June. Though cumbersome to use and really too heavy for me to wield for long without a tripod, it does take nice sharp photos, slightly better than the new 80-400 I've been using all summer and which David used today. I handheld it for a few shots when we passed through a mixed flock of chickadees, kinglets and bushtits but mounted it on the tripod for the gulls.
Susan, feeling good, made a delicious winter squash soup this evening, spiced with chipotle peppers. I had a bowl for desert after beer (Mocha Death), zucchini, bread and cheeses for supper. The evening has been a pleasant conclusion to an emotionally challenging week.
10/29/2013 Nachez Peak
Trying to reach 120 miles for the month, I delayed our departure for Nachez Peak somewhat by running down to the river and once out, took advantage of the time alone to ponder the spawning salmon and to walk a bit on the way back up. Despite some similarities in our situations, I can't really relate to the fish. Most of them are already dead, their carcases furry with pink and gray mold settling into the gravel bars like fading memories. The few living fish are decomposing even as they swim, striving with their peers for preferred territory and flipping on their sides to flush loose gravel out of their chosen nest sites. Almost oblivious to external threats, they focus on finishing their life's work, on spawning before they die.
What is my life's work, I wonder. Surely not just to complete 200 marathons. That's just a milestone marking my illusion that as long as I can run 26.2, I am strong and well. To spawn like the salmon? Been there, done that. To be me, the person my Creator (assuming One exists) made? Or perhaps to love that person and those around him? Starting back up the hill from the river I determined to rejoice in the days that remain, shuffling through golden leaves under a cerulean sky, recalling the joy of dashing through piles of maple leaves on windy October days in New Hampshire. But joy doesn't come when called, or even when recalled. It always surprises me when it chooses to show up, and it hasn't so chosen the past few months. Hope too has been in short supply. Not much enthusiasm for life even though life should be good.
11/02/2013 In Unity We Run Marathon
I'm not running New York City this weekend, my last and only chance to run it. Though I don't regret the decision to stay home, I'm still sad about it. But then again, what doesn't make me sad these days? It would have cost us some $2500 to go, and the IUWR Marathon I ran today instead cost less than 1% of that sum. We spent some of that money hosting Sarah and Roger for five days instead, a much more rewarding use of the funds, and New York would have been a hassle. My sense of failure about it probably indicates my decision was motivated in part by reasons less laudable than saving money, and a feeling of loss remains.
In Unity We Run was windy and cold at times, but fortunately not as wet as I anticipated. The first wind storm of the season blew through today, starting right about the same time as the race and peaking during my six miles. A few good sized limbs broke off the cottonwoods and poplars along the course, at least one narrowly missing a runner but no-one was actually hurt as far as I know. The wind piled dry maple leaves in drifts almost a foot deep along several sections of the trail, rather fun to run through. In other places it blew in our faces so fiercely we had to walk, jackets flapping like loose sails in a gale. I ran mostly alone, though spent a little time with Leslie and later with Monte, and finished in just under five hours. My second half was 30 minutes slower than my first yet felt about as hard. I don't know whether that represents a loss of endurance due to the initial stages of decline, or just a lack of recovery from last weekend. Hopefully the latter since this was only #172 and I still hope to make it to 200.
11/03/2013
I woke up this morning feeling OK, calves a little tight and heels a little stiff, with a hint of irritation in my outer left knee and left anterior tibialis tendon, but none of the pain that I felt in my groin upon lifting/lowering my right knee yesterday evening. Probably should have tried to do Boundary Bay after all - my consolation prize for not doing New York City this morning.