---
Big Bend Trip, July 1-7, 2015

7/01/2015 Big Bend day 1
I knew very little about either Big Bend National Park or west Texas when John met me at the airport to pick up his rental car and we headed west out of town. I was the navigator and before we had even left the city limits I navigated us to a wastewater pond right along the freeway where a Black-bellied Whistling duck (which would be a life bird) had been reported on eBird. It was no longer present but we did see a close-up Green heron and met a Mockingbird, the first of many.
Approaching Johnson City I thought I spotted a sign for a brewpub so we turned into town. Just as I was about to give up the search we spotted the Pecan Street Bewery and Restaurant in a tastefully false-fronted Quonset hut next door to the old stone jail on the town square. My burger and John's pizza were both excellent and at a dollar each for four-ounce samples, the indigenous PSB ales were
7/02/2015 Big Bend day 2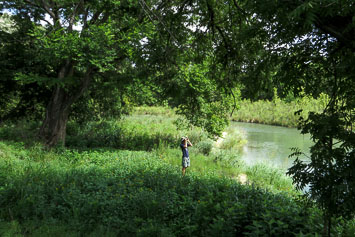 On Big Bend day 2 we still didn't quite make it to Big Bend; it's a long drive from Austin.
I wanted to at least sample the birding in this verdant country we were driving through and eBird reported a Green Kingfisher in South Llano River State Park near Junction towards the west edge of the hill country. That would be a life bird for me since I didn't see it on my last visit and John agreed enthusiastically that we should try to find it. We arrived at the visitor center to find a horde of juvenile hummingbirds crowding the feeders. They could have been either Black-chinned or Ruby-throated. Inside we collected maps and pamphlets and got directions to a three mile walk through oak-pecan grassland along the river.
Already at 10 AM it was hot out there. Our path disappeared into waist-high and presumably chigger-infested grass before it reached the river. Undeterred, we forged on. When the path reappeared John spotted a beautiful red yellow and black banded snake lying in the trail. "Not to worry", I told him. "Red on yellow harmless fellow, red on black watch out Jack." Having memorized that little saying during my naturalist phase back in high school, I'd been waiting all my life to use it. John stooped down to get some close-up shots as the snake slithered into the grass. Perhaps he knew all along but it wasn't until about three weeks later that I realized that I had the little saying exactly backwards. The colorful snake with red bands outlined in yellow was a Texas
coral snake, one of the most venomous reptiles in North America.
a nice selection
the picnic area down the road was particularly flashy. Before lunch we waded into the deliciously
On the way out of the park we stopped at the bird blind. With running water and bird seed in a natural looking yard fronting a little hut with benches and picture windows and slots for camera lenses, it was similar in design to the blind I frequented at Pedernales State Park on my last visit. It would've been great for photos were not for the tiny fire ants defending the place against visiting photographers. As it was I photographed a few sparrows, a bathing Yellow-breasted Chat and what I thought was a Lesser Goldfinch which turned out to be an endangered Black-capped Vireo instead. I could've easily passed another day birding there but Big Bend was calling, though not so loudly that we couldn't stop for milkshakes on the way out of town. Like milkshakes everywhere they
were too cold, too sweet and too large and we drained them anyway.
Outside of Marathon we stopped to admire flowering agaves and to investigate a road cut in which interbedded layers of marble and black chert were folded almost in half. As we were walking the roadcut I heard an angry whine. Twenty feet ahead of us a growing cloud of bees was buzzing around a vertical crack in the rock. "Killer bees nest in cracks like that" I thought. "Killer bees" I shouted. "Back up!" We did, and the bees calmed down again. John didn't seem too concerned; I
think he was absorbed in trying to puzzle out the history of the rocks.
7/03/2015 Big Bend day 3
white showing on the side of its neck.
We followed a bleached gravel path past a couple of dilapidated stone buildings and two picnic tables nestled under a clump of palm trees and through a dense band of
carrizo cane
to the river. The sun was plenty hot but there were no springs in sight. The river consisted of three channels between gravel bars, the gravel having been deposited by a wide wash entering from the right between banks of dense mesquite and acacia. A trickle of warm clear water meandered down the wash, its shallow pools full of tadpoles. Later I found one pool upstream deep enough (like 10") to bathe in,
without soap of course.
Varied Buntings.
a pretty good list
I never did find any varied buntings. I had families of roadrunners and ravens, lots of doves, a pair of Yellow-billed cuckoos and two Crissal thrashers. My most exciting sighting was not a bird but an adorable wide-eyed Bobcat kitten, golden brown with oversized ears, black rings on its legs and an unexpectedly long black-tipped tail. It and a sibling were playing at the edge of the wash while Mama glared at me from the brushy bank. While I fumbled with my camera they faded into the thickets.
as a good idea so I did short forays around the area and checked in on him periodically for the rest
Towards evening John recovered enough to attempt the 50 yard trek back to the car. We made it but at the first sharp turn he was overwhelmed by nausea and had to stumble out of the car to throw up along the road. I drove carefully down the Rio Grande village attempting to follow as straight a line as possible. We were looking for a ginger ale but the store was closed and the vending machine didn't work.
Setting up the tent was a pitiful affair but I wasn't about to allow irritated ants free access to my bed overnight. Somehow we got the tent up despite John's nausea and my dysfunctional arms and hands.
A moon as bright and remote as God traced a high arc across some of the darkest sky in the continental US while we slept.
7/04/2015 Big Bend day 4
22 species of birds
, I saw Mule deer and Black-tailed jackrabbits and lots of desert cottontails. Back in camp neither John nor the ants were up yet. John had set up my pad as a sunshade in the tent and was happy to sleep for another hour or two so I went back out birding.
a birdy spot
with Scott's orioles, Canyon wrens and towhees and Rufous-crowned, Black-throated and a family of four Cassin's sparrows. The bedrock showed interesting patterns of concentric bands of light and dark oxidation along fractures. Up above the lip of the ledge I discovered what was attracting the birds, a small pool of water left by recent rain showers. Nice Ocotillo grassland habitat up there
too.
quite a few other birds
.
had had to blast it out of the way with dynamite. It must've been quite a sight.
have been there a very long time.
Laying out my bedroll, I noticed a few gnats bouncing off my headlamp. John set up his bivy sack and crawled in, zipping the mosquito netting closed over his head. "Hey I've got a bunch of bugs in my tent", he called out. He was reading something by the light of his headlamp. When I went over to check it out I found a seething mass of gray gnats the size of a dinner plate on the outside of the mosquito netting centered over his light. I looked down at my coat and it too was alive with little insects. Hordes of them landed on my blanket as I finished laying out my bedroll by the light of my headlamp. Hoping to divert them from my bed I set my headlamp some distance away and took a five-minute walk down the road in the dark. Returning I found the ground around my headlamp crawling with bugs so I turned it off. At least they weren't biting, I reminded myself as I lay in bed feeling little critters creeping around on me. I was so tired that I went to sleep anyway.
7/05/2015 Big Bend day 5
I was looking for my two target birds, the Lucifer hummingbird and the Colima warbler, and I didn't know whether to be optimistic or not about my chances of finding them. Having read somewhere that the hummingbird liked agaves, I examined every flowering agave on the way up the Pinnacles trail. No hummingbirds. On the other hand, when we reached the pass over the shoulder of Emory peak and started down the Boot Springs trail I immediately heard a Colima warbler song. I lingered there in hopes of seeing it while John took off to do his loop hike around the southeast rim. Unfortunately
the warbler did not show up so after waiting 15 minutes I followed John down the trail.
She was my only Lucifer's of the trip but she was sufficient.
7/06/2015 Big Bend day 6
diaper rash finally cleared up a week later.
in different directions. How did that happen?
Ten minutes later we entered the shade of a large storm off to the northeast and the temperature dropped 20 degrees. The mass of dark gray clouds appeared to be sitting exactly over my last birdwatching destination and my last chance for Varied buntings. They had been reported on eBird at the Christmas oasis, which is apparently a private refuge in a remote valley by the Christmas Mountains. We tried to get there nonetheless but the grid of gravel roads, the relics of a stalled development effort to which the GPS directed us, became rougher and more flood prone the farther we went. We would have chanced it anyway if it hadn't been for the storm threatening to move in from the east. We looped around on better roads and tried to enter from the north but stopped at an unequivocal "NO TRESPASSING" sign and looked for fossils and dinosaur tracks in the sandstone of the roadcut instead. We found some shells. On the way out we birded a half hour in some tall and
somewhat trashy mesquite but my Varied Bunting recordings called in only Blue Grosbeaks, once again.
7/07/2015 Big Bend day 7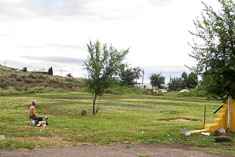 John was up before I was. When I stepped outside I found him sitting on a stool in the vacant lot next door brewing his coffee and contemplating the clouds to the east. The air was mild and the town quiet. In a weedy corner of the parking lot, a Curve-billed thrasher was thrashing a grasshopper. That was about the extent of my bird watching for the day; it was over 400 miles to the airport and we had 10 hours to get there.
The drive wasn't that bad. We stopped now and then for photos, left the interstate at Iraan and stopped there for breakfast then continued on secondary roads the rest of the way. I enjoyed watching plant communities change back from creosote bush and mesquite to grassland to oak and juniper woodlands. At a stop in mesquite grassland, we photographed giant grasshoppers in the road and I heard a Cassin's sparrow singing. Looking for a Cave Swallow we stopped at a couple of bridges but couldn't detect any. Later, looking at the last photo I took for the trip, I discovered that I'd captured one in flight in the corner of a landscape of a wash. Nice way to finish.
I ended up with
a list of 103 species
for the trip, including life birds 603-605 (Green Kingfisher, Colima Warbler and Lucifer Hummingbird).